Love London
London is the capital city of England and the United Kingdom and it is also the most populated city in Great Britain with over 13 million inhabitants.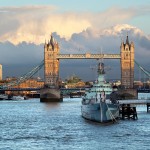 London contains four World Heritage Sites: the Tower of London, Kew Gardens; the site comprising the Palace of Westminster, Westminster Abbey, St Margaret's Church and the historic settlement of Greenwich (in which the Royal Observatory, Greenwich marks the Prime Meridian, 0° longitude, and GMT).
Other famous landmarks include Buckingham Palace, the London Eye, Piccadilly Circus, St Paul's Cathedral, Tower Bridge, Trafalgar Square, and The Shard. London is home to numerous museums, galleries, libraries, sporting events and other cultural institutions including the British Museum, National Gallery, Tate Modern, British Library and 40 West End theatres.
The London Underground is the oldest underground railway network in the world.
London has a wealth of options for lovers of luxury, from five-star hotels and Michelin-starred restaurants to celebrity hangouts and high-end shopping. London is one of the worlds most visited cities and has something for everyone; from history to culture, art to architecture.
Contact Sincerely Paul to bring this amazing city to life for your visit to London