Scotland's Castles
From grand city landmarks to shadowy ruins, Scotland is notorious for its iconic castles.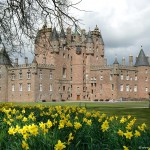 Visit Royal Edinburgh Castle where battles and sieges were fought and royalty lived and died within its walls. See for yourself one of the most recognised and photographed castles in Scotland, Eilean Donan Castle. Explore monumental Glamis Castle, the legendary setting in Shakespeare's Macbeth, the childhood home of Her Majesty Queen Elizabeth, The Queen Mother, and birthplace of HRH Princess Margaret. Discover scenic loch side castles like Culzean Castle and remarkable ruins such as Urquhart Castle. Admire Stirling Castle, one of Scotland's grandest castles, Scotland's most historically important site, a symbol of Scottish independence and a source of national pride.
Whether you are looking to explore one the largest Castles or head off the beaten track to a hidden ruin, there is plenty or history to discover at each of the many castles in Scotland.
Contact us to find out more about the historic castle tours we are able to offer