Paris Highlights
Enjoy a privately guided tour with an English speaking guide in Paris visiting the most famous monuments. Walk along the quayside of the river Seine, marvel in the timeless heart of the city and check out the popular and trendy districts this beautiful capital city has to offer.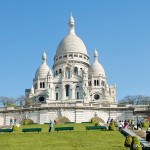 Pass by the stunning opera house; Opera Garnier and the prestigious and elegant Vendome Square which is one of the city's most exclusive and fashionable areas. Drive along the Champs Elysees, one of the most famous avenues in the world leading to the Arc de Triomph; the most monumental of all triumphal arches in honor of those who fought for France. It also features the tomb of an Unknown Soldier from World War I. Visit one of the major public squares in Paris, Place de la Concorde. A visit to Paris is not complete without experiencing the unique panoramic view of Paris from the spectacular Eiffel Tower, built by Gustave Eiffel in 1889 to celebrate the 100th year anniversary of the French Revolution.
Visit one of the many museums in Paris. The Louvre Museum is one of the biggest and most visited museums in the world where you can see the 'Three Great Ladies' including the Mona Lisa.
In the heart of the city visit Ile de La cite; one of two natural islands that sits in the middle of the Seine. Here you will be able to visit the magnificent Notre-Dame Cathedral, one of the finest examples of French Gothic architecture in the world and the seat of the archbishop of the city.
Explore the picturesque area of Montmartre, located on a hill with amazing views all over Paris. Lose yourself in steep cobbled streets in one of the most historic neighborhoods in Paris. Visit the Basilica of Sacre-Coeur which sits on the crest of the hill.