Daytrip to Paris from London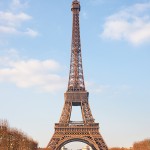 Depart London on the Eurostar to Paris bright and early arriving in Paris at approx. 10.15am. You will be met by your English speaking guide and driver for your whirlwind tour of the city of lights. You will begin with a panoramic tour of the city taking in beautiful views of the Paris' famous landmarks. In the morning you will be able to discover the Ile de la Cité and visit the historical cathedral; Notre Dame or take in breathtaking views from the top floor of the dominating Eiffel Tower.
After lunch, visit one of the largest museums in the world, former Royal Palace and home to the world famous Mona Lisa and over 400,000 works of art. Explore the chic, historic and intellectual left bank of the River Seine is generally associated with artists, intellectuals and a bohemian way of life.
End your tour back at Paris Gare du Nord Eurostar Station and return to London.
Contact us to arrange your personalized daytrip to Paris