Walking in the Footsteps of Kings and Queens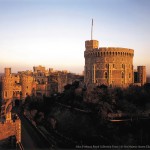 Embark on a tour through bygone years at the World's largest and oldest inhabited Castle and a stunning Historic Royal Palace.
First visit wonderful Windsor, one of the Official Residences of Her Majesty the Queen. During a visit to Windsor Castle you will see the magnificent State Apartments; frequently used for entertaining other Monarchs and Head of State, St. George's Chapel, burial place of Kings and Queens, and Queen Mary's Dolls' House, exquisitely perfect to the tiniest detail.
Next visit nearby Hampton Court Palace situated along the River Thames, a favorite residence of the infamous Tudor King Henry VIII where five of his wives lived and the ghosts of two supposedly still haunt it. Visit the stunning gardens, the World's largest grape vine and the great maze!
To walk in the footsteps of Kings and Queens please contact us