Enchanted Stonehenge and Salisbury
Leave the hustle and bustle of London behind; as you take in views of the charming English Countryside making your way to mystical Stonehenge; a pre-historic monument dating back to 3000BC. When you arrive at the World Heritage Site your tour will begin with your own personal Blue Badge Guide starting at the new Stonehenge Visitor Center. Next, see the mesmerizing monument for yourself as you are taken on a tour on the footpath around the main structure of Stonehenge.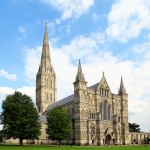 Continue to marvel at how stones of such monumental scale were quarried, transported and erected 5,000 years ago as you carry on your daytrip to the nearby City of Salisbury. Set among beautiful countryside, Salisbury is a unique destination with 5000 years of history and a City dominated by England's tallest Cathedral Spire. Visit the magnificent 13th century cathedral where you can discover the world's best preserved Magna Carta and Europe's oldest working clock.
To find out more about this captivating tour contact us